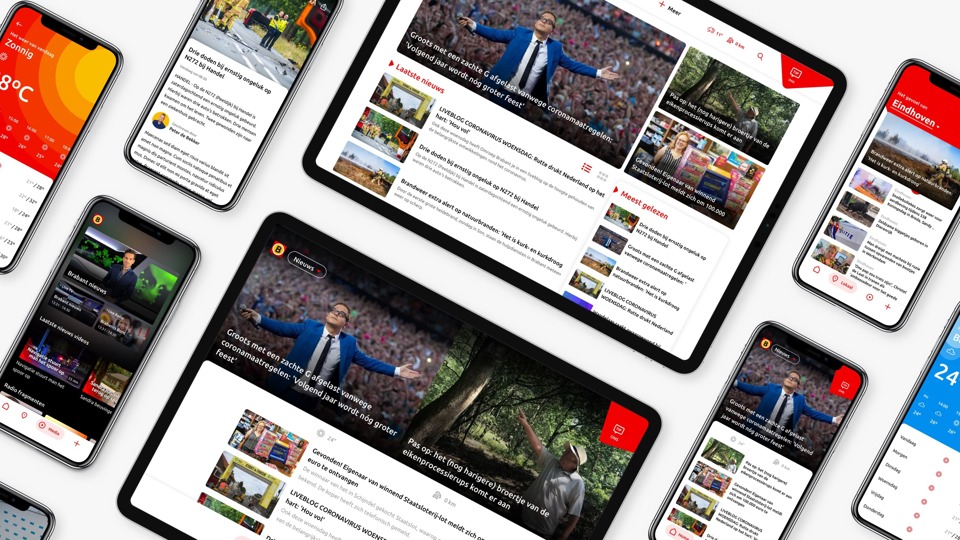 Triple digital partner Omroep Brabant
Omroep Brabant, the regional public broadcaster of North Brabant, has selected Triple as its new digital partner for the next 5 years. The first step in the collaboration has already been taken: on May 6th, we launched the new Omroep Brabant app (iOS and Android) and website.
As a digital partner, we're responsible for the concept, design, development, the Content Distribution Platform (CDP) and the cloud hosting of the new Omroep Brabant platform.


STRONG FOUNDATION
In recent months, the focus of the collaboration has been on replacement and the online environment. This has laid a new foundation for increasing the relevance of news content to consumers. In this collaboration, we've introduced our CDP as a standard component. This proven technology in combination with the cloud architecture enables the platform to meet the set growth and performance requirements of Omroep Brabant.
FUTURE-PROOF DESIGN
The new Omroep Brabant platform is characterized by high availability, fast push notifications, flexible layout and perfect mobile user experience. With this platform, Omroep Brabant has opted for a future-proof solution that brings the Brabant news in an innovative and involved way. The applied atomic design method contributes to the future innovation and agility of the Omroep Brabant app and website.


EASY ACCESS TO LOCAL AND REGIONAL NEWS
The recently launched Omroep Brabant platform focuses on local and regional news in the area of functionalities, where users can now easily select their place of residence and thus receive news from their own environment more quickly. The news platform is in direct contact with their readers by 'tip the editorial staff'.

In the coming period, the partnership between Triple and Omroep Brabant will be dominated by the further development of the apps and website.
The delivery of apps and website is a great step in the collaboration between Triple and Omroep Brabant. We've laid the foundation for a future-proof platform with which we can realize our ambitions online. We're therefore looking forward to working together on the further development of Omroep Brabant's online products in the coming period.
Carlo van Acker, Media Facilities Manager at Omroep Brabant
I'm convinced that this beautiful joint result not only contributes to increasing media reach of Omroep Brabant but can also respond even better to the changing individual needs of the digital news consumer.
Lennart van Wijk, Managing Director Cloud Solutions at Triple