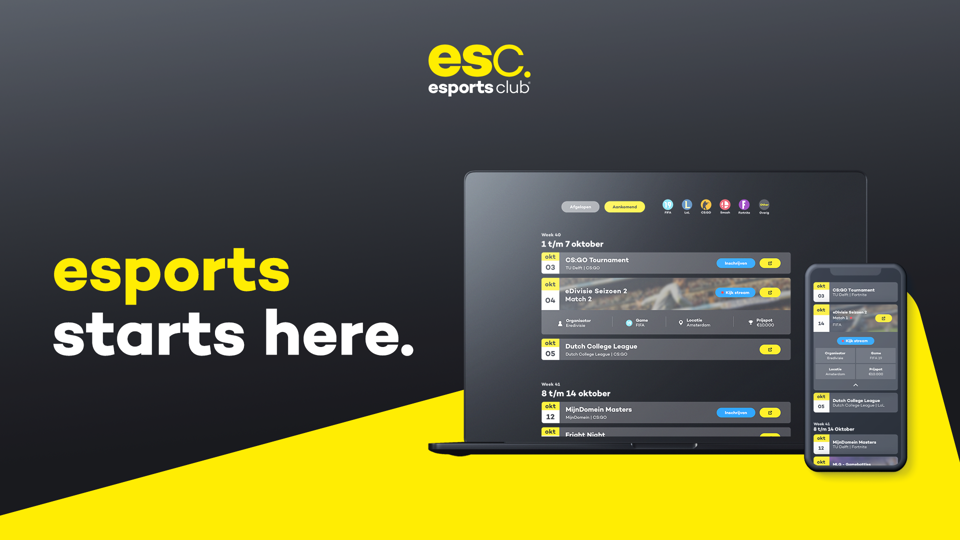 Triple introduces Esports Club
We're incredibly excited to finally announce our brand new esports product! Esports Club is the first platform in the Netherlands that focuses entirely on esports. The platform brings players, tournament organizers and interested parties together.
Esports Club is a production platform and production house for companies and organizations that want to focus on esports, but have no resources for it.

With the first release, Esports Club brings an overview of esports tournaments in the Netherlands and Belgium. That's an average of 50 tournaments a week! In the next release, Esports Club will be extended with news, current events and data about the tournaments, ranking and players.

The platform deals with various esports titles and focuses on the communities of FIFA, Fortnite, League of Legends, Counter-Strike: Global Offensive and Super Smash Bros. Esports Club will expand with more esports games soon.

"It has been lacking for years for a clear overview of esports in the Netherlands, even though there are some awesome initiatives. With Esports Club we create more visibility by bringing all these initiatives together in one place. It's a starting point for everyone with an interest in esports", says Ward Geene, Co-Founder of Esports Club, esports expert and former editor for gaming platform Power Unlimited.

"Esports has now grown into a serious business. Brands increasingly want visibility in esports, but in most cases, they don't know where to start and how they can reach the communities. In the Netherlands, we don't have a platform where everything comes together and after the success of Team Gullit, this is a logical next step", says Corné Dubelaar, co-founder of Esports Club and founder of Team Gullit.
Want to know more? Visit the website.