About the project
NLZIET updated its video streaming platform to offer the full range of Dutch TV channels. The new user-friendly platform is a future-proof solution that caters to modern viewing preferences.
Case video
Services
UX/UI Design, Mobile Development, Web development, Smart TV Development and Chromecast.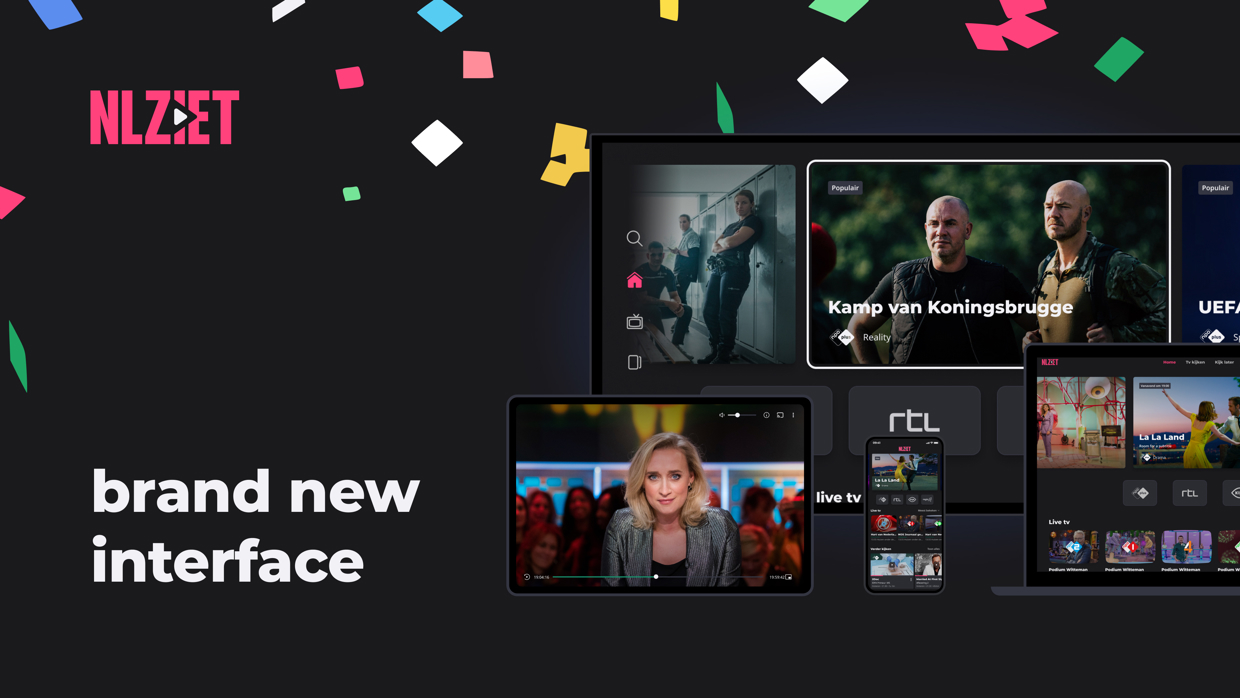 The challenge
Video streaming platform NLZIET has been serving Dutch TV viewers since 2014. Their goal is to become the largest streaming platform in the Netherlands, offering content and services that appeal to all Dutch TV viewers. They recently underwent a major rebranding project, including an overhaul of their existing platform. 
Valsplat conducted research to determine which design choices and features NLZIET needed to implement to align their platform with (potential) users' preferences, now and in the future. Based on the findings, NLZIET decided to fully update its platform during a project called "NLZIET 5.0." Key areas that needed to be addressed included:
Inconsistent designs: NLZIET's front-end had not been designed with the growth of the service in mind. That meant the design was inconsistent, which resulted in a sub-optimal viewing experience for the user.
Platform architecture: The back-end needed to be partially replaced to accommodate the growing number of users and deliver the right user experience.
User experience: The on-demand user experience was exactly the same as the live TV user experience. As a result, it wasn't always clear to users whether they were watching live or on-demand and whether it was possible to skip commercials.
Personalized viewing experience: The old platform did not offer a personalized viewing experience, with recommendations based on the viewer's history and profile. This was high on the list of priorities for implementing into the updated platform.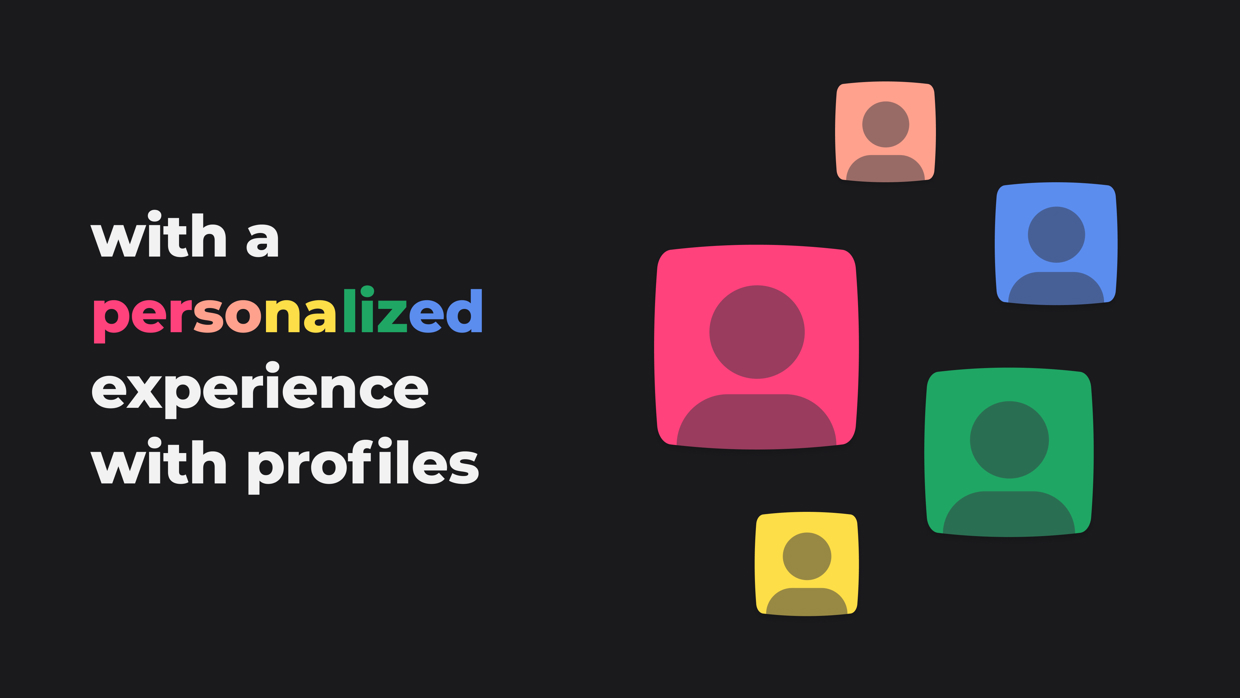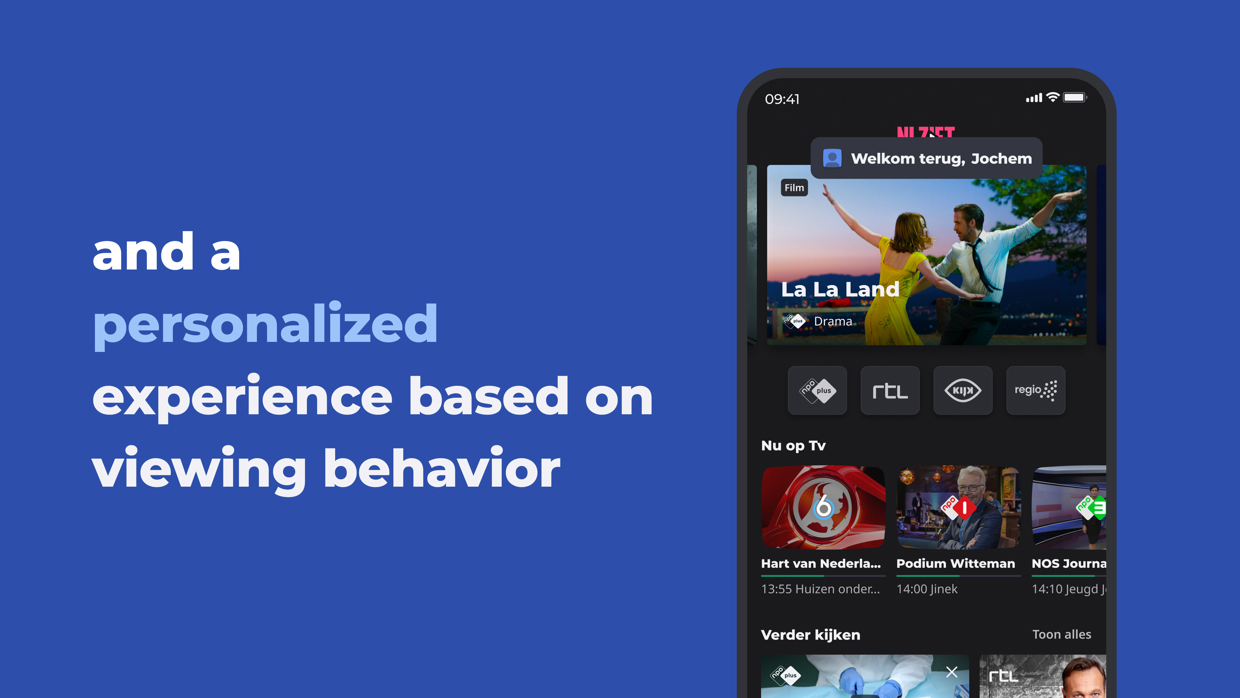 Taking that extra step, together.
The goal was to create an easy, personalized and intuitive platform where users can watch their favorite TV shows, both live and on-demand, anywhere and anytime.
Tackling design inconsistencies
NLZIET 5.0 offers a user-friendly interface and consistent user experience across every possible platform (mobile, web, SmartTV, Chromecast, AndroidTV, AppleTV and FireTV).
Upgrading platform architecture
The updated metadata service eliminates inconsistencies between on-demand and live TV metadata.
The new solution is fully scalable, so it can process large numbers of users and peak moments by, for example, dealing more intelligently with cacheability. 
The API adds better logic from front- to back-end, enabling user-friendly features like:

Binge-watching (users can now find the episode they're looking for faster and use the PlayNext feature to automatically play the next episode) 
Quick startup (smart logic determines where a series starts, so the user always sees the most relevant episode) 
Streamlining user experience
The consistent, scalable design of the platform streamlines the user experience.
All designs are underpinned by user data and validated with intensive user testing.
New visual cues prevent the user from confusing live TV with on-demand. Tags and different colors make it immediately clear which type of video is streaming.
Creating a personalized viewing experience
Now when the NLZIET app opens, the user immediately sees personalized recommendations on their home screen. Here, they can quickly find their favorite shows and discover new content based on their viewing history.
The new NLZIET platform is built for the future of Dutch TV.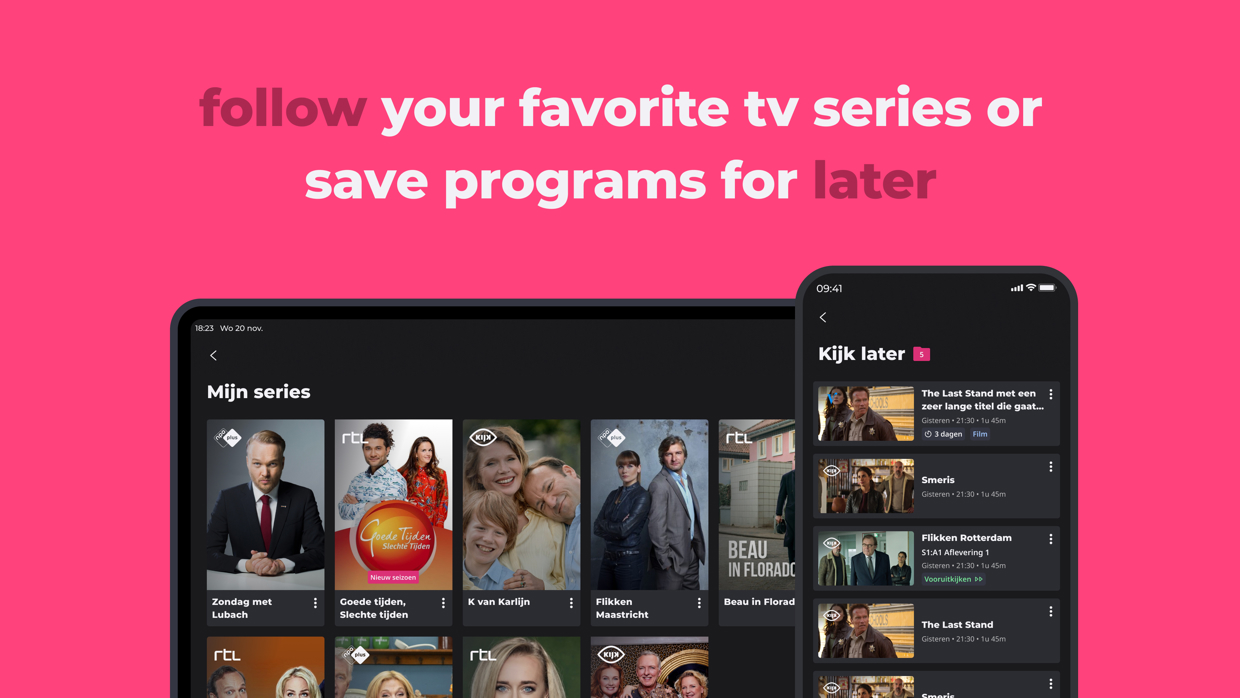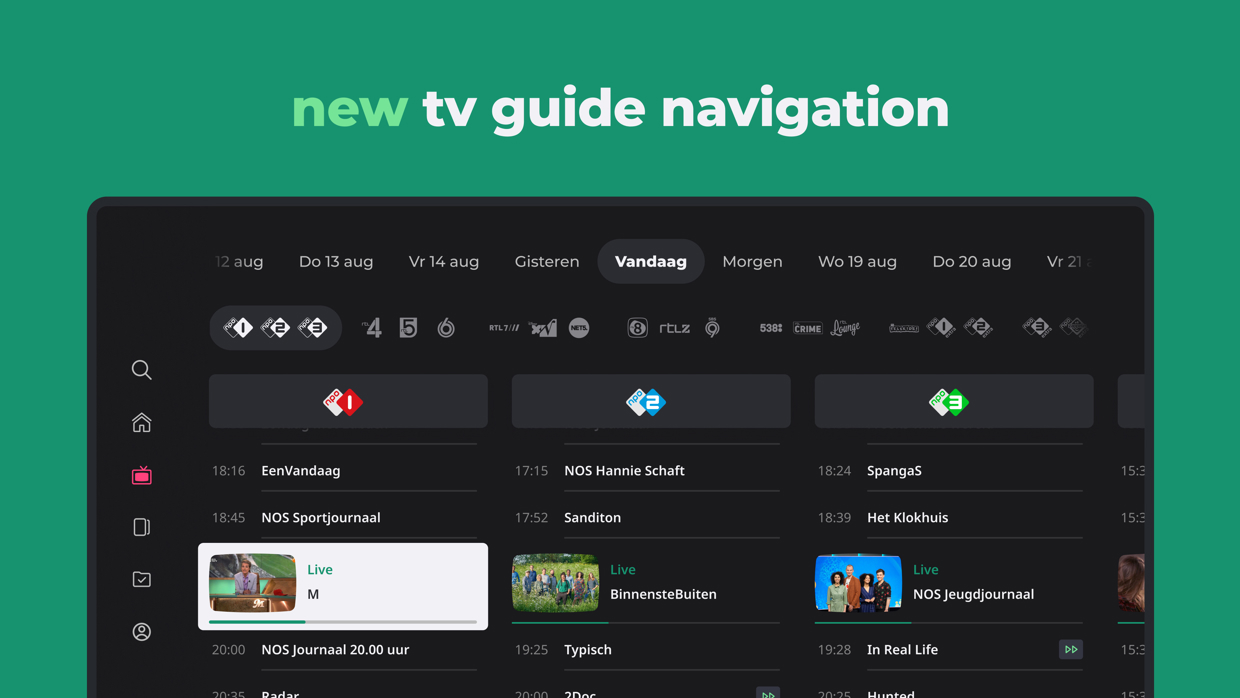 Execution
The goal of the redesign of NLZIET was to future-proof the platform's design, branding and technology—on the front end, as well as behind the scenes. The updated platform is tailored to modern viewers' needs, with a focus on personalization, user-friendliness, findability and a natural viewing experience. 
From May 2020 to March 2021, NLZIET and Triple worked closely together, even during the COVID-19 restrictions, to implement the NLZIET 5.0 project: from concept, to UX and UI design, to architecture, API specifications and development of the mobile (iOS and Android) and TV apps (SmartTV, AppleTV, AndroidTV) and the website.
The long-term partnership between Triple and NLZIET, which began in 2014, ensured trust and smooth communication within the project. NLZIET also gave developers and designers the freedom to think proactively about the product, functionalities and platform improvements. This not only led to the best possible results for the streaming platform, but also ensured rich collaboration between the two companies.   
Triple remains involved in the further development of the platform and actively contributes ideas to help make NLZIET an even better video service. Using video analysis technology, Triple continues to fine-tune the newly revamped platform to ensure the best viewing experience for NLZIET customers.
Impact and Results
Beta testing among subscribers proved that ease of use has improved on the new NLZIET streaming platform compared to the old one. Some of the key results include:
51% improvement in viewing time 
42% improvement in findability with the new TV guide 
40% improvement in discovering new shows
40% improvement in watching missed programs 
29% decrease in video startup failures
5.6% increase in video startup time
42.6% decrease in rebuffering ratio
10.2% increase in average bit rate
NLZIET will continue to develop the platform in the coming years in cooperation with Triple. The focus is on identifying where improvements can be made, with new features being introduced based on existing and new user research. With the new platform in place, NLZIET is now on the path to becoming the largest streaming platform in the Netherlands.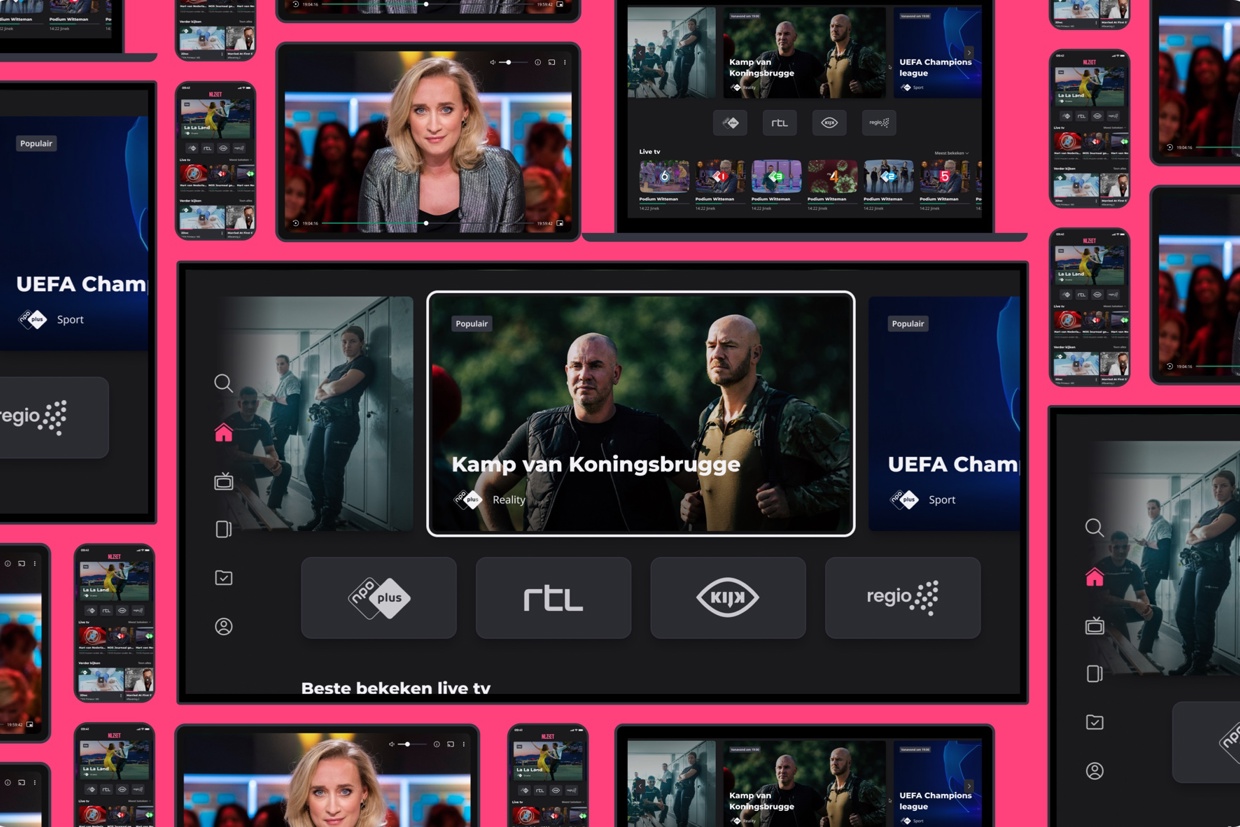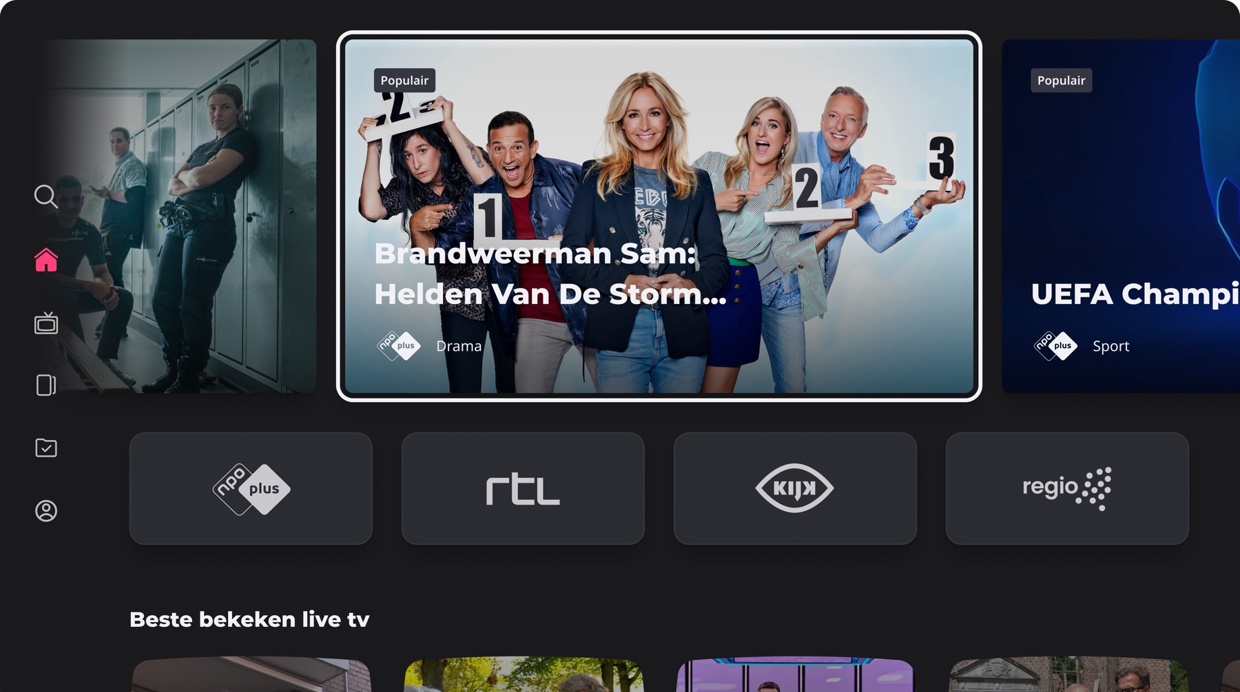 Collaboration
The pandemic posed many unique challenges in terms of collaboration. Fortunately, NLZIET and Triple already had a well-established partnership. Because of this, we were already well aware of existing pitfalls and very familiar with NLZIET's way of working. The high level of trust on both sides was a major benefit during the project. This allowed for stronger collaboration despite the inherent difficulties of working together digitally and remotely. 
Because of our long-time partnership with NLZIET, it has been very rewarding for us at Triple to see how satisfied they were with our commitment to the project. Our close working relationship proved to be a great advantage for both of us. As developers, we greatly benefit from the opportunity to think alongside our clients and identify new opportunities. NLZIET gives us the creative space that we need to face any challenges the project puts in our way.
More information?